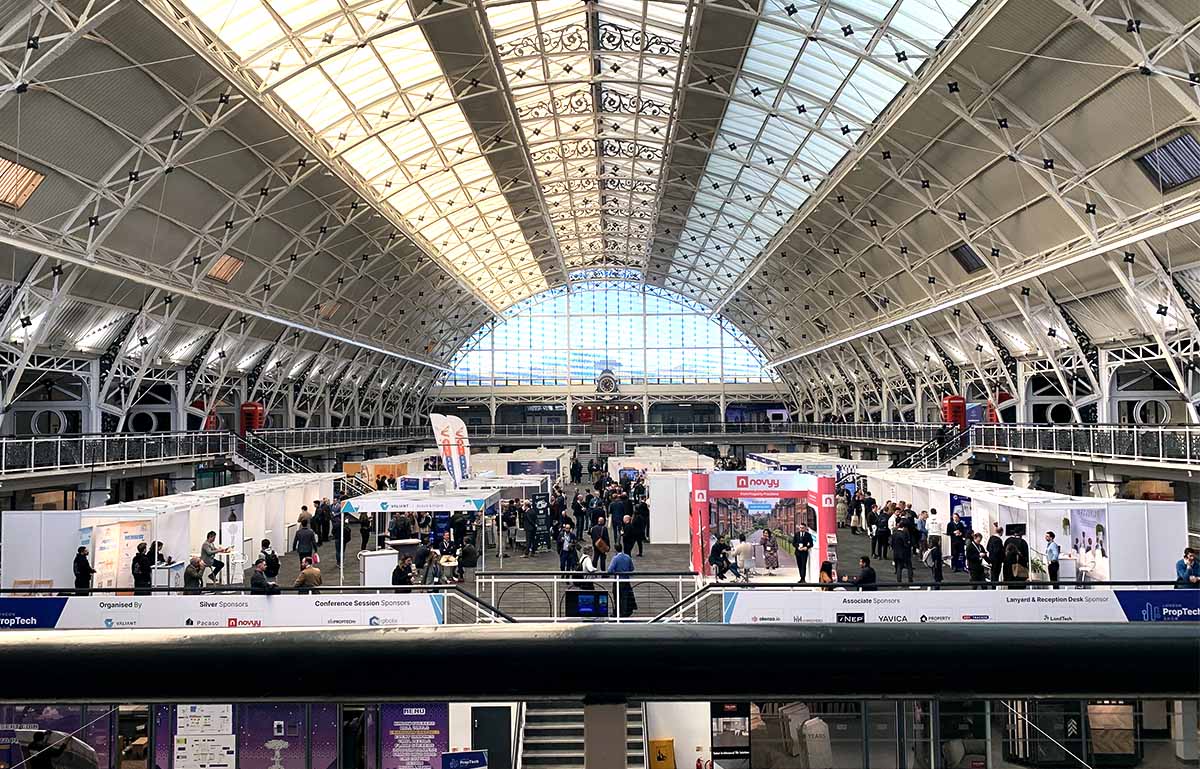 PropTech and the building sector are moving from buzzwords to actions
A report on current trends from the London PropTech Show 2023.
It's said that nothing changes, then everything changes. And that was truly the feeling we got during the London PropTech Show this year. Proptech is now vital to support property managers and building owners – it's no longer just a 'nice to have', and the industry is moving from buzzwords to actions. The question among building owners has gone from "why do we need proptech?" to "how and where should we focus our priorities?", and the direction of the how and where could be sensed in some of the topics at the fair. Join us for a walkthrough of some of the trends and topics from this year's PropTech show!
Working from home = reduced energy demand and energy consumption in commercial buildings
When one of the conference speakers asked the attendants in the room "who here thinks we will ever go back to the way it was before Covid?", no one raised their hand. Hybrid working is still a hot topic. In the wake of the Covid 19 pandemic, hybrid working has become part of the new normal, and everything points towards it sticking around.
We see a global shift to a new way of working that requires a reallocation of resources. Are office spaces being utilized and operated in the most beneficial way? How we use office spaces will of course affect the energy use in these areas. For example; if office spaces are left unoccupied more often than before, can you still stick to the same routine for heating that area as you did before?
Questions like these were discussed during the London PropTech Show, and it's the same questions that need to be answered when you manage your portfolio.
Sustainability in building operations
The climate crisis saturated every topic at the event, because it has saturated every new legislation and governmental policy that has been presented over the past few years. The acuteness of this topic was demonstrated even in terms of wording; from calling it the "climate crisis", more and more people talked about the "climate emergency".
The building sector is responsible for a significant portion of global greenhouse gas emissions, and property owners and property managers have a crucial role to play in mitigating the climate crisis. Reducing energy consumption is a critical part of this because much of the world's energy supply is still derived from fossil fuels, such as coal, oil, and natural gas. By reducing energy consumption, property owners and property managers can help reduce the demand for energy from these fossil fuels, which in turn reduces the amount of greenhouse gasses emitted into the atmosphere.
At the show, we saw examples on how advanced analytics and machine learning algorithms can predict and prevent energy waste, maximizing energy efficiency and cost savings. But of course, all these smart technologies need to be powered by high-quality data. Which brings us to the next trend.
The importance of making data-driven decisions in energy management
If you don't know how your assets are being used, you won't know how to manage them. By harnessing the power of data-driven energy management, the building sector can play a crucial role in addressing the climate crisis and creating a more sustainable future (while also reducing their operational costs).
By collecting granular data on energy usage, and identifying areas of waste, property owners and managers can make targeted improvements to building systems and operations, resulting in significant reductions in energy consumption and greenhouse gas emissions. And making data-driven decisions in your energy management is critical if you want to reduce your energy related carbon footprint, without compromising comfort.
Reducing energy use without compromising tenant comfort
Building owners and facility managers today, especially in commercial real estate, are looking to improve mental and social aspects of well-being – and at the same time reduce cost of operations. But if you're not tracking your data on a granular level, it's hard to drop costs and still improve the outcome for your tenants.
Making data-driven decisions based on, for example office use in regards to hybrid working, will help you (1) make smarter energy saving decisions, and (2) contribute to sustainability, without (3) interfering with your tenants' well-being.
Every smart solution needs high-quality energy data to work its magic
All these trends point towards 2023 being an exciting year for PropTech and the building sector.
It's truly remarkable to be at a place like the London PropTech Show, where everyone is sitting on a smart solution that will help the building sector and the built environment to reduce its carbon emissions, and ultimately save the world. Whenever my inner Greta Thunberg is awakened, I think of all the good technology can do; when based on the right data, the value and impact of PropTech is massive. But that's why we need to work together, making sure that the data that will fuel these technologies is easily available – and that's what we do at Metry, by enabling the ecosystem of energy data.
Let's find more synergies! Reach out to our data collection experts, and we'll walk you through how you can unlock high quality energy data to enable real energy savings.
Tired of browsing?
Download the brochure
Discover all our products and solutions
Download the product brochure and find out if Metry is the right solution for your data needs.
Can't see the form? Try turning off your ad blocker.